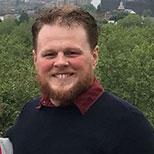 Mark Winter
Lecturer
Business / Accounting, Finance and Economics
Mark is in the department of Accounting Finance and Economics, LBSU Business School. He specialises in Economics with interests in political economics, experimental economics, behavioural economics and theoretical economics. Specifically using experimental economics to investigate questions in political economics.
He spent five years at Royal Holloway University of London as a doctoral student and teaching fellow from 2013 – 2018 having previously studied his undergraduate and postgraduate in economics at the University. He also worked at Queen Mary University of London as a Teaching associate for one year between 2017 and 2018. He joined London South Bank University in September 2018 as a lecturer in economics.
He is the Associate Course Director for the BSc Economics course, BUE link tutor for Economics and the Personal Tutor for the BSc Economics Course.
Mark taught three modules on the BSc Economics Course during the first semester of the 2018/19 academic year; level 5 Introduction to Macroeconomics, level 5 Historical and Institutional Economics and level 6 Economic Research.
In the past Mark has taught Quantitative Methods, International Economic Policy, Financial Economics and Economic Philosophy at BSc level and Foundations of finance at MSc level at Royal Holloway. Additionally, Microeconomics, Corporate Strategy and Mathematical methods at Queen Mary.
Mark currently has a working paper in experimental and theoretical economics that focuses on two round voting models and the effect of uncertainty and victory conditions on the outcome of elections. Additionally, a working paper in theoretical economics that focuses on the effect of bounded rationality on voter decision making and rationalising 'wasted votes'.
Fellow of the Higher Education Academy