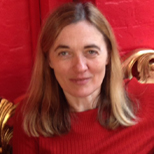 Marie Culloty
Associate Professor
Health and Social Care / Adult Nursing and Midwifery
Marie is the Principal Lecturer for Pre–registration Adult Nursing in the Division of Adult Nursing and Midwifery within the School of Health and Social Care. She has over twenty years' experience in nurse education and clinical practice.
Marie is an adult nurse and has a BSc (Hons) in Health Studies, an MA in Applied Research and is a registered Nurse Teacher.
Prior to joining LSBU, Marie worked in a variety of roles within the health service from staff nurse, senior sister, clinical tutor and project manager that has allowed her to gain a range of clinical experiences in different clinical specialties but also in management and education.
Marie has interests in both design and delivery of curricula and is the division representative on the School's academic standards committee and a number of working groups aimed at improving the student experience. Marie completed her Masters in Applied Research in East Anglia focusing on assessment of students in clinical practice.
Marie spent over 10 years working as a Principal Lecturer in Post-registration Continuous Personal and Professional Development (CPPD) before taking on her current role within the division. She is currently the course director for the CPPD pathways for the BSc (Hons) Professional Nursing Practice (Anaesthetic Care). This course draws applicants from across hospitals in inner and outer London.
Marie is currently enrolled on a PhD within the division with a research interest in patient safety and harm free care.
Marie currently teaches the following modules:
Evidence Based Anaesthetic Care
CourseFundamentals of Anaesthetic Care
Marie additionally contributes to a number of sessions across the Pre-registration Adult Nursing programme, including skills and preparation for practice.
Marie is a member of the Royal College of Nursing and the association of perioperative nurses and is currently registered with the NMC.