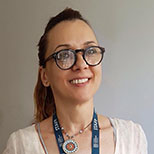 Maria Lemac
Senior Lecturer
Engineering / Computer Science and Informatics
Maria Lemac is a computer scientist with over 12 years of experience in lecturing. She is currently a course director for IT courses at undergraduate level. She is a member of Big Data & Informatics Research Group (BDIRG) working in the area of visual analytics. She also participates in the Knowledge Transfer Partnership (KTP) programme as a consultant offering technology solutions to various SMEs. Maria is passionate about nurturing student-focused culture and enabling each individual student to achieve their full potential.
Maria teaches across undergraduate courses in the division of Computer Science and Informatics.
Maria is currently undertaking a research project in Data Visualisation for her PhD.
Maria has presented a research paper on the importance of critical thinking in higher education at the British Computer Society INSPIRE Conference 2013.