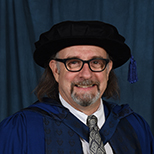 Malcolm Garrett
Honorary Doctor of Letters
Malcolm Garrett has gained a global reputation for his influence on graphic design and popular culture. In the 1980s, his work with musicians such as Simple Minds and Duran Duran helped define the visual identity of a generation. Throughout the 1990s, he pioneered the possibilities presented by digital technology. And more recently he has become known for both his collaborative approach to design and his commitment to design education.
Malcolm set up his first agency, Assorted iMaGes, shortly before graduating from Manchester Polytechnic in the late 1970s. His first notable work, for legendary punk band Buzzcocks, was followed by iconic sleeve designs for some of the biggest artists of the 1980s, including Duran Duran, and
his work became synonymous with the youth culture of the era.
In 1990, his studio became the first among its peers to go totally digital, and in 1994 he launched an offshoot of Assorted iMaGes, interactive media production company AMXdigital. He worked for a time with agency I-mmersion in Toronto, before returning to London in 2005. Since 2011 he has run an interactive media design consultancy with writer Kasper de Graaf, his former partner at Assorted iMaGes. Their company, IMAGES&Co, is based here on the LSBU campus, in The Clarence Centre.
In 2000, Garrett became a Royal Designer for Industry, the first 'new media' designer to gain this prestigious honour. In 2013, he was elected Master of the Faculty. He is also a Fellow of the International Society of Typographic Designers and of the Royal Society of Arts, and co-curator of the annual Design Manchester Festival.
He is also deeply committed to ensuring that the next generation of designers receives a rigorous and wide-ranging education. He is a founder member of the University of Southern California's World Building Media Lab, is a member of the Science Museum Advisory Board, and sits on the committee for the annual Sir Misha Black Awards, which recognise innovation and excellence in design education. He is also an ambassador for the Manchester School of Art and a visiting professor at Central St Martins.