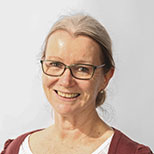 Lynne Michael
Course Director for MSc International Real Estate; Course Director for BSc Property Management (Building Surveying)
Built Environment and Architecture / Construction, Property and Surveying
Lynne Michael is a Course Director in the School of The Built Environment and Architecture, having joined LSBU in 2008 after a long career as registered valuer and advisor. Core competencies include the valuation of commercial, industrial, residential and rural property interests as well as statutory and compulsory purchase valuation procedures. Valuation services provided include mortgage and financial reporting values plus advisory roles for private clients as well as local authorities and central government.
Lynne applied her skills as co-owner and director in forestry and horticultural developments planning development to optimise land use and concessionary grant schemes.
Global movements of business and people prompt Lynne's specialised interest area in International Real Estate investments and property management.
Lynne has an MSc in Real Estate from London South Bank University, Post Graduate Certificate in Commerce from Lincoln University, Bachelor of Business Studies degree from Massey University, Graduate Diploma of Teaching from Wellington College of Education and a Post Graduate Certificate in Higher Education from London South Bank University.
Lynne's professional qualifications include MRICS, Registered Valuer, MNZIV,PINZ.
Lynne's teaching roles include;
Course Director BSc Property Management
Module co-ordinator for undergraduate Estate and Property Management and Management of the Firm
Module co-ordinator for postgraduate Corporate Real Estate Management
Contributory lecturer in Property Investment Appraisal, Advanced Valuations and Property Development lectures for building surveyors
Michael, L., & Guowei, G. (2013) Consistency & Comparability in International Valuations. Proceedings of ERES Conference 2013, Vienna.
Memberships of Society of Property Professionals (SPR)
New Zealand Institute of Valuers (NZIV)
Property Institute of New Zealand (PINZ)
All provide active learning and networking functions to access contemporary information for an effective learning environment.
Lynne enjoys sailing, walking and the art and architecture of Europe and U.K.