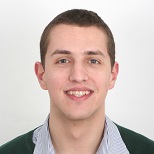 Dr Luis Santos
Senior Lecturer in Structural Design
Built Environment and Architecture / Civil and Building Services Engineering
Dr Luis Santos is a Lecturer in Structural Engineering in the Department of Civil Engineering, School of the Built Environment and Architecture. Luis is extremely passionate about teaching and aims at facilitating the learning of structures of his students. In terms of research, he specialises in optimisation, with proven record on structural optimisation of sandwich panels for offshore structures, as well as earthquake engineering.
Luis arrived at LSBU in 2019 after completing his PhD degree at Imperial College London on the topic of design optimisation of rectangular honeycomb core sandwich panels.
Luis has successfully delivered high-quality, in-depth content in the field of Structural Engineering. Not only he is incredibly passionate about structures and structural analysis, but also continually seeks to improve his conceptual design skills.
Graduate Member of the Institution of Structural Engineers (IStructE)
Graduate Member of the Institution of Civil Engineers (ICE)
Associate Fellow of Advance HE UK