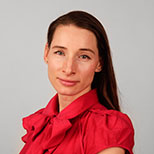 Lucia Otoyo
Senior Lecturer
Engineering / Computer Science and Informatics
Lucia had various jobs, including working as an IT trainer within several different learning centres, before deciding to undertake a degree in Computing Studies at London South Bank University once her first daughter was old enough to attend nursery. She graduated with first class honours in 2008.
Lucia then took two years off to look after her second daughter. During this period she joined a Parent Teacher Association, providing advice on IT solutions and helping with fundraising and event organisation.
In 2010 she took on several full-time internships in the area of web development. She learned about open source technologies and gained valuable experience working as a team manager, software tester and technical copywriter.
A year later she joined forces with her former LSBU project supervisor Dr. Martin Bush and an ex-colleague with whom she had worked on two of her internships; together they developed the online multiple-choice platform QuizSlides.com, which went live in April 2012. Lucia is now a director of the company QuizSlides Ltd.
In addition to working on QuizSlides, in 2012 Lucia also helped to develop a new Drupal-based website for a property letting company in Switzerland, and in 2013 she undertook a research project for the Faculty of Health and Social Care at LSBU.
Lucia has worked with various technologies including HTML5, CSS3, PHP, Drupal, GIMP (graphics editing software), Git (distributed version control and source code management), KDIFF (version control software) and Agile Scrum (project management). She also has expertise in the areas of software testing, graphic design, product marketing and sales, and entrepreneurship.
i-Culture (Level 4)
Media Computers and Networks (Level 4)
Professional and Contemporary Issues (Level 6)
Lucia is a Fellow of the Higher Education Academy (HEA).
Director of QuizSlides Limited, a small startup company founded in 2011. The company's main product is the online multiple-choice test platform QuizSlides.com.