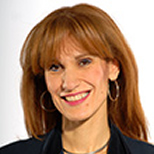 Louise Andronicou
Associate Professor, Director of Student Recruitment and Admissions, School of Law and Social Sciences
Law and Social Sciences / Law
Louise Andronicou, BA MA SFHEA Solicitor, joined London South Bank University (LSBU) in 1991, having previously worked as a solicitor in a city practice.
She is a Senior Fellow of the Higher Education Academy, and a specialist in Land Law, which she teaches to both undergraduate and postgraduate students at LSBU. She has also been a consultant and tutor on the Land Registry Qualification, delivered by The College of Law to Land Registry employees from 2002 to 2012.
Louise is widely known and consulted for her innovative, widening participation approach to student recruitment, admissions and qualifications reform, all of which have been of interest to academic media.
Louise works very closely with colleges and schools, devising and implementing innovative, award-winning academic projects to encourage young and mature people to aspire to Higher Education. Such projects have included delivery of Level 4 modules in schools/colleges and a 'Learning to Learn' project to equip Level 3 students with the skills required of Higher Education. Her latest initiative has been to provide an Extended Project Support Programme at LSBU to Access students from partner colleges, supporting them with their work on their Extended Project (a compulsory double module on Access courses). She has become an authority on progression agreements and has set these up with schools, colleges and entire boroughs.
Of particular interest to Louise is the Access to HE Diploma. She regularly sits on the validating panel of OCN London, a national qualification awarding organisation, and has been involved in 'curriculum matching' between Access to HE courses and university courses, ensuring the smooth progression of access students to courses at LSBU. Louise was instrumental in formalising the work between LSBU and OCN London by way of a Partnership Agreement, through which clear progression routes for Access students have been created.
Louise's membership of the OCN London Advisory Board, the Linking London National Network for Collaborative Outreach Advisory Board, and many years' work as a secondary school governor, ensure she is aware of the issues within Further Education and schools.
Louise was one of 10 national experts from universities and national bodies from across the UK to be invited by SPA (an independent UK-wide programme, supported by HEFCE, UCAS, DELNI and UUK) to form part of the National Experts Think Tank 2015 (NETT) on Curriculum and Qualifications Reform. The guidelines published by the NETT, relating to good practice in HE admissions and recruitment, have been circulated to universities across the UK.