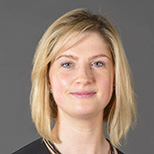 Libby England
Student Enterprise Manager
Libby England is a Student Enterprise Manager at London South Bank University (LSBU). The Student Enterprise team at LSBU delivers a range of support services to entrepreneurial and enterprising students and graduates, including an accelerator programme, a series of talks and workshops, in-curricular activities and internships with small and medium sized businesses.
Libby focuses on creating opportunities for students and graduates to develop and apply skills in live business environments. Internships, consultancy and other employment opportunities with SMEs and start-ups expose students and graduates to the reality of running a business. Libby works with new and existing SMEs to offer these experiences to LSBU students and graduates.
Having previously worked for Compliance and Risks Ltd from its start-up stages, Libby has gained a practical insight to the skills and characteristics needed to build a successful business. Prior to joining LSBU, Libby applied this experience and knowledge in supporting enterprising students at the University of East London, as Enterprise Coordinator from January 2014 and as Interim Head of Innovation and Enterprise from April 2015.