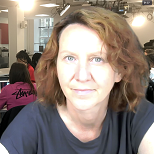 LJ Filotrani
Associate Head of Division, Creative Technologies and Course Director for Media Production
Arts and Creative Industries / Film and Media; Arts and Performance; Creative Technologies
LJ Filotrani is the Associate Head of Creative Technologies and course leader for Media Production. She is also a senior lecturer in journalism. Originally a multimedia journalist with a background on national newspapers such as the Guardian and the Financial Times, she is currently a PhD candidate. Her research area is esports and sport broadcast media.
LJ is a Senior Lecturer in Journalism and delivers modules across both Journalism and Media Production.
LJ is currently a PhD candidate at London South Bank University. Her research area is esports and broadcast media - specifically focused on EAsport FIFA Series and the ePremier League in the UK.
LJ Filotrani is the Vice Chair and Founding Director of the Association for Continuing Education in Esports (ACES).
Laura-Jane is currently working on a book for Routledge called 'WordPress for Journalists - From Plugins to Commercialization', which will publish in early 2017.
She has contributed significantly to both the Financial Times and the Guardian.