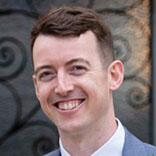 Kris Mac Mahon
Lecturer
Health and Social Care / Allied Health Sciences
Kris Mac Mahon is a Lecturer in the Department of Health and Social Care, School of Allied Health Sciences. He specialises in Sport Rehabilitation with interests in Strength and Conditioning and the application of pedagogical principles in own area of specialism. He spent three years working in Further Education Institutions teaching related degree programmes before joining LSBU.
Kris teaches on the lower limb rehabilitation and upper limb & spinal rehabilitation modules, as well as being the Placement Coordinator for the BSc (Hons) Sport Rehabilitation programme.
Kris teaches on the following modules:
Lower Limb Rehabilitation
Upper Limb and Spinal Rehabilitation
Kris is a certified GSR through the British Association of Sport Rehabilitators and Trainers (BASRaT).