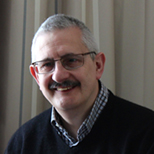 Dr Keiron Spires
Associate Professor - eLearning
Health and Social Care / Allied Health Sciences
Lt Col (Retd) Keiron Spires QVRM TD is Associate Professor for eLearning and Learning Technologies in the School of Health and Social Care. In his career as a military nurse he qualified as both and adult and a children's nurse and had operational service around the world as both a regular and Reservist nurse. He was awarded the QVRM in the New Year's Honours List in 2006.
His educational career has centred around nursing and education. He has been the Course Director for the MA Practice Education (Nurse Teacher status course), and also for a BSc (Hons) Radiographic Studies course taught primarily by eLearning to radiographers in Singapore.
Keiron's current role is to lead on eLearning and Learning Technologies development for the School and to represent the School as part of the wider LSBU EDISON Project. He is particularly interested in the use of social media for learning and teaching and all forms of mobile technology.
Has worked with Apple Education on the use of iPads in Education.
Keiron is the Module Leader for TBE_7_036 Supporting eLearners in MA Practice Education programme. He teaches:
Leadership and Leading Change
Accessibility
Digital Curriculum
Learning and Teaching
Online Identity
Keiron is an active military nursing historian and completed his PhD in 2013: Nurses in the Boer War. This is a prosopography and the database is publicly available at http://www.boerwarnurses.com
Conference Presentation "Second Life or Blackboard VLE?" at the Virtual Worlds Best Practices in Education Conference, March 12th 2010
Conference Presentation "Nursing in the Boer War" at the International Perspectives on Nursing History Conference, London, September 2010
Nurses and Nursing Care in the Boer War. Presentation given at the Annual Bisley Lecture, The Historical Breech Loading and Small Arms Association, Bisley, UK. 20th August 2011
Nursing in the Boer War. Presentation given at the International Nursing History Conference, Kolding Denmark, August 9-11 2012
Nurses in the Boer War. Presentation given at the PhD Workshop, part of the UK Association for the History of Nursing Colloquium on the History of Colonial and Post-Colonial Nursing, Oxford, UK. 3rd July 2013
Chair of HSC Learning and Teaching Committee
Member of University Learning and Teaching Committee