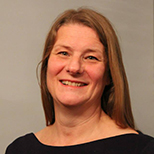 Katie White
Senior Lecturer
Health and Social Care / Children's Nursing
Katie qualified as an adult nurse in 1987, having previously joined the RAF as a communications technician. Following her first qualified appointment as an expedition nurse in Borneo and Indonesia, Katie worked in children's services at Newham General Hospital and The London Hospital (Whitechapel), now part of Bart's Health.
Katie qualified as a children's nurse at the Royal Hospital for Sick Children, Glasgow (York Hill) in 1991, before working for a health charity in rural Tanzania. She then worked in managerial and clinical leadership roles in a variety of acute children's services across the North, Central and East areas of London and Essex. After successfully completing many years of study, culminating in an MSc in Health Service Management, Katie volunteered to work alongside nurses at Holy Innocents Children's Hospital in Uganda, helping to set standards and share her skills and knowledge to improve care and managerial processes.
Katie undertook a lead clinical role at Manchester Children's Clinical Research Facility in 2013, before being awarded the opportunity to participate in the prestigious Darzi Fellowship programme with Health Education England NCEL, where she focused on Mentorship and Preceptorship.
Katie has been employed at LSBU since September 2015. She primarily teaches on the Pre-registration programme and is one of the Link Lecturers for Barking, Havering and Redbridge Hospitals.
Katie teaches on the BSc (Hons) Children's Nursing programme across the year groups and cohorts.