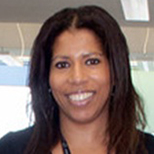 Katie Fordyce
Lecturer Practitioner - Diagnostic Radiography
Health and Social Care / Allied Health Sciences
Katie Fordyce (née Pyne) is a joint appointee between King's College Hospital and LSBU providing education and training for undergraduate and postgraduate students at both sites. She is the Course Director for the Postgraduate Breast Imaging pathway which is jointly run between the National Breast Screening Centre at King's College Hospital and LSBU.
Within the BSc (Hons) Diagnostic Radiography and DipHe Diagnostic Radiography programmes, Katie is the Level 4 Tutor whose role is to ensure students have a smooth transition into Higher Education. Katie is also the Module Leader for the Level 4 clinical module, Applications of Radiographic Theory 1.
Katie maintains her general radiography and mammography skills by working regular shifts within the private sector and KCH Breast Imaging Department.
Katie is a member of the Society and College of Radiographers and is registered with the Health Care Professionals Council.