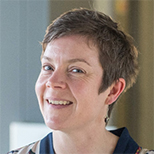 Kathy Dewar
Lecturer Practitioner - Diagnostic Radiography
Health and Social Care / Allied Health Sciences
Kathy Dewar studied at Guy's Radiography Education Centre & South Bank University from 1991-1994 qualifying as a Diagnostic Radiographer with a BSc (Hons) Diagnostic Radiography.
She worked as a basic grade Radiographer at Mayday Hospital until 1999, moving to St.Mary's Hospital, Paddington as a senior 2. She completed a PgCert Radiographic Reporting (appendicular) from the University of Hertfordshire in 2001, reporting for 6 months before moving to Melbourne Australia as part of a radiography exchange program, she worked as a Radiographer at St. Vincent's Hospital.
In 2003, Kathy returned to the UK, and worked as an agency radiographer at GSTT within the general and cardiology departments. She started her current role at London South Bank University in 2004, and gained her PGCHE on campus in 2008.
Kathryn's areas of expertise include radiographic appendicular skeletal reporting, advanced practice in gastro-intestinal (GI) radiology and specialist in cardiac and vascular imaging.
Kathy's subject specific teaching includes vascular imaging, cardiology, radiographic reporting, gastrointestinal imaging and all aspects of general radiography.
Her teaching expertise include:
Image interpretation pre and post reg
Advanced practice in IV cannulation.
All aspects of fluoroscopy, including vascular, GI & cardiac imaging
All aspects of radiographic technique.
Module leader:Image interpretation (Undergraduate Diagnostic Radiography program)
Level 6 tutor
Lecturer Practitioner for Guy's & St.Thomas' NHS Foundation Trust
Post reg lead for Pg(cert) Appendicular skeletak reporting
In May 2010, Kathy co-authored 5 image interpretation modules for the e-learning for health project.
Kathy is registered with the Health Care Professions Council.
PgCert module Barium enema reporting/practitioner at Robert Gordon University Aberdeen.