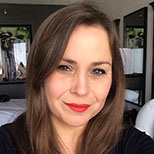 Kate Davies
Senior Lecturer
Health and Social Care / Children's Nursing
Kate has been a qualified children's nurse since 1994, and worked in general paediatrics, paediatric ICU and neuroscience before specialising in paediatric endocrinology in 2000. During this time she has focused on advancing her education by studying for a BSc (Hons) in Psychology, an MSc in Occupational Psychology and an MSc in Professional Healthcare Research.
Kate has become well-known internationally within paediatric endocrinology, having presented and published widely. Her experience as a Clinical Nurse Specialist in Paediatric Endocrinology has led her to work with some of the world's leading experts across several London NHS Trusts. She has sub-specialised in growth and puberty, neuro-endocrine late effects of childhood brain tumours, adrenal disorders and disorders of sex development.
Kate has always been passionate about educating staff and students, and started at LSBU as a Senior Lecturer in Children's Nursing in September 2015.
From July 2017, Kate is now also Course Director for the MSc Children's Advanced Nurse Practitioner pathway.
Kate teaches on both the undergraduate and postgraduate Children's Nursing degree pathways, and has recently launched the new CPPD "Principles of care of the child and young person in endocrinology" module at levels 6 and 7. She is the module lead for the Level 7 Applied Clinical Physiology (Neonate and Child) in the Children's Advanced Nurse Practitioner pathway. She also supervises MSc theses.
Kate has been actively involved in clinical endocrine research throughout her senior nursing career. She has also studied whistleblowing amongst nurses for her MSc in Occupational Psychology, and advanced nursing practice amongst clinical nurse specialists and advanced nurse practitioners for the MSc in Professional Healthcare Research. She was awarded the Paediatric Endocrine Nurse Award in 2014 for her research looking at endocrine nurses, research and social media, which will continue as a focus for potential doctoral studies.
Society of Endocrinology: Nurse committee member
European Society of Paediatric Endocrine Nurses Society: Committee member
British Society of Paediatric Endocrinology and Diabetes
Royal College of Nursing
Pediatric Endocrine Nurses Society (USA)