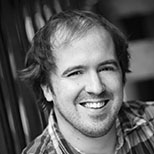 Justin Randell
Course Director, Music and Sound Design BA/BSc
Arts and Creative Industries / Creative Technologies
Justin Randell is the Academic Director of the Elephant Studios at LSBU, which is the hub of the media production facilities for the School of Arts and Creative Industries. He is also the Course Director for Music and Sound Design.
Justin has worked in music production, sound design, and post-production. Recent projects include mixing an album for Ty on the Jazz Refreshed label, post-production and sound design for a short documentary and surround mix for a feature film. Previously, he toured internationally with Aphex Twin producing audio-visual content as part of Weirdcore. He has also worked on the design of several studio facilities and the Tate Modern Dolby Atmos Cinema.
Justin is the course director of the Music and Sound Design course, and Avid accredited instructor. I also teach on the MA in Editing and Post-Production, and supervise postgraduate research.
Justin is involved in research in music production and sound design.
AES - Audio Engineering Society
Alongside his academic role, Justin Randell is currently working as consultant for an established studio design company, Veale Associates, advising on a range of projects from recording studios to broadcast facilities. In this capacity, he develops technical audio solutions to effectively support the fast-paced world of media production.