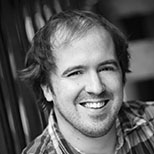 Justin Randell
Course Director, Music and Sound Design BA/BSc
Arts and Creative Industries / Creative Technologies
Justin Randell is the Course Director for BA Music and Sound Design. His expertise includes sound synthesis, mixing and processing. Justin graduated from Sheffield Hallam University, and was involved in Sheffield's electronic music scene before working on digital media arts projects in a sound production capacity.
Since moving to London, his engagement with creative media was continued with projects such as live audio-visual performances at the BFI iMax cinema, as well as working on sound installations with international artists. In 2009-10, he worked internationally with Richard James (a.k.a. Aphex Twin) to develop unique sound reactive visual projections for his live music shows.His industrial expertise is currently kept up to date through his active engagement with an established studio design company, Veale Associates.
Justin Randell started out teaching workshops to showcase digital technology as a creative tool for sound production. He has presented guest lectures on a variety of subjects related to sound. He specialises in practical demonstrations of media production techniques, and bespoke / DIY approaches to technology. Having worked as a freelancer, he also leads the final year Music and Sonic Media module 'Professional Practice in Creative Sound' to prepare students to develop a successful career as flexible sound and music specialist in the fast-moving music and media creative industries.
Justin Randell has worked on practice-based research into multi-channel sound systems for interactive installations, as part of the exhibitions of "Re-Locate" with Dr Tahera Aziz. This included the development of prototype software to explore different methods of tracking audience movements within an exhibition space.
AES - Audio Engineering Society
ARP – Art of Record Production
PRS for Music – UK-based collecting society for composers and music publishers
SMPTE – Society of Motion Picture and Television Engineers
Alongside his academic role, Justin Randell is currently working as consultant for an established studio design company, Veale Associates, advising on a range of projects from recording studios to broadcast facilities. In this capacity, he develops technical audio solutions to effectively support the fast-paced world of media production.