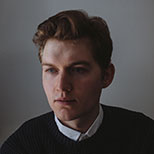 Joshua Magor
Graduate Teaching Assistant
Arts and Creative Industries / Film and Media
Joshua Magor is an award winning South African writer-director. His work has shown at numerous international film festivals and has screened at prestigious institutions such as the Barbican Centre in London, the Chicago Cultural Centre and the Tatham Art Gallery in South Africa.
As a director his debut feature film "Siyabonga" made its world premiere in the main competition of the 71st Locarno Film Festival and went on to play extensively around the world at cinemas, film festivals and art galleries. To date the film has won 8 awards and received over 80 nominations internationally. Joshua is a Berlinale Talents alum and in 2019 was endorsed by Art Council England as an "exceptional talent" in Film and Television. He is the co-founder of production company Other People.

Research interests: Media anthropology, phenomenology, spatial systems, time-based practice, memory, collective experience, Africa, statecraft, territory, possibilities of film form, forensic approaches to images and sound.