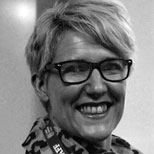 Jo Delrée
Senior Lecturer in Mental Health and Learning Disabilities
Health and Social Care / Mental Health and Learning Disability
Jo is a learning disability nurse with a special interest in autism and working with distressed and challenging behaviour. Jo has worked in and managed serviced for people with autism and complex behaviours, as well as in forensic learning disability services.
Jo also has a keen interest in leadership and management, and delivers education programmes in this area as well as in autism, and learning disability issues. Jo also teaches biosciences and physiology to undergraduate nurses.
Biosciences and applied physiology for nurses
Learning disability issues including:

Health assessment and health inequality
Supporting people with complex needs
Mental health in learning disability
Supporting people with challenging behaviour and positive behaviour supports
Autistic conditions
Jo leads on the CPPD activities and enterprise initiatives for mental health and learning disabilities.
She is leading on projects and bespoke programmes of work commissioned by our external service and industry partners.