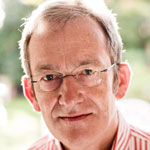 Jerry Hughes
Senior Lecturer in Radiography; Course Director of Postgraduate Radiographic Reporting
Health and Social Care / Allied Health Sciences
Jerry Hughes has run both undergraduate and post graduate courses at LSBU since joining in 1994. His previous experience was in the Army, retiring as Major O/IC Joint Services School of Radiography, RMSC Shrivenham.
He is currently Course Director for the Post graduate Radiographic Reporting Course and the BSc (Hons) Radiographic Studies distance learning course in Singapore.
Jerry has considerable experience in Anatomy, Physiology and Pathology teaching with an emphasis on radiographic imaging, interpretation and reporting of the skeletal system.
Jerry teaches on all aspects of the Diagnostic Radiography curriculum.