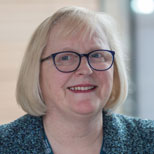 Jennifer Jones
Senior Lecturer and Postgraduate Course Director in Radiography
Applied Sciences / Allied Health Sciences
Jenny is a Senior Diagnostic Radiography Lecturer in the Department of Allied Health Sciences, School of Health and Social Care, and the Postgraduate Course Director for Diagnostic Imaging. She specialises in cross-sectional imaging and forensic radiography.
Jenny has been involved in teaching student radiographers since qualifying as a DCR radiographer. As a SCoR accredited practice educator she set up student placements in the independent sector through UWE.
She also has vast experience of training and teaching post-graduate radiographers and Jenny is the Clinical lead for an MRI seminar.
SCoR (Previous Southwest Council member and member of MRAG, NRAG and Communications groups)
BIR
IAFR
HEA
Association of Medical Educators