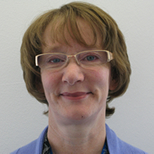 Jackie Kent
Senior Lecturer - Perioperative Practice
Health and Social Care / Allied Health Sciences
Jackie Kent teaches on a number of courses related to perioperative healthcare. She has extensive clinical experience of critical care nursing, in both operating theatre and ICU settings, in a leading London teaching hospital. Particular areas of expertise within the perioperative field include anaesthetic care, management of the critically ill patient and acute physiological disorders, utilising the simulation facilities ("Sim-Man") to enhance student's understanding in these areas. During her clinical career Jackie gained considerable experience in supporting healthcare students in real work situations, and utilises this expertise in facilitating placement opportunities for current students.
Jackie has a Master's degree in Education.
CertHE Perioperative Practice / BSc Operating Department Practice
Level 4 (Year 1)
Introduction to Working in the Perioperative Environment
Basic Anatomy and Physiology for Perioperative Practice
Fundamental Perioperative Practice Skills
Caring for Individuals in the Perioperative Environment
Building Operating Department Practice Skills / Perioperative Skills
Concepts of Interprofessional Practice in Health and Social Care
BSc Operating Department Practice
Level 5 (Year 2)
Developing Operating Department Practice Skills
Post Anaesthesia Care Skills
Scope of Practice for Operating Department Practitioners
Perioperative Practice Skills for Paediatrics
Emergency Care in Theatres
BSc (Hons) Professional Nursing Practice (Operating Department Care)
Level 6 (Post-registration)
Fundamentals of Operating Department Care
Evidence Based Operating Department Care
Extensive consideration of the student's experience of healthcare education, from both academic and placement perspectives.
Registered with the Nursing and Midwifery Council (NMC)
Member of the Association for Perioperative Practice (AfPP)
Associate Member of College of Operating Department Practice (CODP)
Member of CODP CUE forum (Clinical and University Educators' forum)