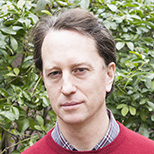 Ian Appleyard
Senior Lecturer - Acupuncture
Health and Social Care / Allied Health Sciences
Ian Appleyard is the Course Director of the BSc and Integrated Masters Chinese Medicine courses.
Ian graduated with a BSc in Acupuncture from Westminster University in London in 1998. He worked as an acupuncturist in private practice in Brighton for 4 years, and spent over 3 years in China learning the language and continuing his acupuncture training. During this time Ian studied at the Shu Guan Hospital and the Meridian Research Institute, which are both in Shanghai.
In addition, Ian completed a year of postgraduate clinical training at the Jiangsu Provincial Hospital of Traditional Chinese Medicine in Nanjing (which is recognised by the World Health Organisation as a training institute for Chinese Medicine). Previously he had also studied with a private practitioner in Japan in 1996.
Prior to taking up his current post Ian worked in private practice in Kendal and taught at the Northern College of Acupuncture. He has advanced level spoken Mandarin Chinese.
Ian is the Course Director of the BSc and Integrated Masters Chinese Medicine: Acupuncture courses. He teaches Chinese medicine and supervises in the clinic. He also gives introductory lectures about acupuncture on a number of other Health School programmes.
He has a Postgraduate Certificate Higher Education (PgCHE) 2011 and is a Fellow of the Higher Education Academy, achieved December 2012.
Ian is currently undertaking a PhD. This research investigates the treatment of osteo-arthritis of the knee with acupuncture. The purpose is to ascertain whether or not additional clinical benefit can be obtained by using warm needle acupuncture. Ian has an interest in understanding the challenges of clinical research into acupuncture. His recent publication deals with the complexity of sham acupuncture procedures.
Member of the British Acupuncture Council 1998 – present
Chair of the Council of Heads of Acupuncture Courses (CHAC)
Member of the British Acupuncture Accreditation Board (BAAB)
External Examiner:
Leeds Trinity Lishi Diploma programme: 2012-present.
College of Traditional Acupuncture:
BSc (Hons) Acupuncture 2009-12
Speaker:
Panel Discussion British Acupuncture Council Conference September 2015
International Conference on Health, Healthcare and Eco-civilisation LSBU September 2015
ARRC Annual Research Symposium 2015
Milan University 2014
Panel Discussion 'The Parts and the Whole' at the Wellcome Trust 2014
Pittsburgh University, Pennsylvania 2012
China Institute, New York 2012
British Acupuncture Council Conference 2011