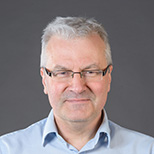 Howard Thomas
Research Administrator
Howard Thomas joined London South Bank University (LSBU) in 2012, originally as Business Development Manager for the ESBE Faculty. Following the formation of the Schools structure he began work with the School of Engineering and the School of The Built Environment and Architecture. Howard's work has employed academics and students to deliver work to SMEs, trade bodies and start-ups, as well as large companies from the many sectors supported by the Schools.
For a time, Howard's main responsibility was to head up the Sustainable Communities Institute, which involved working across the University to deliver new income generating projects. These projects go beyond just "being green", helping to drive down material consumption, encourage re-use, and the implement a Circular Economy model. They also deliver better quality of life to the various communities the projects will serve.
An engineering graduate, prior to joining LSBU Howard had a 30 year career in the private sector, working in telecommunications, electronics and technology. He is a member of the IET and is a voluntary business mentor for The Prince's Trust, helping young people start their own businesses.