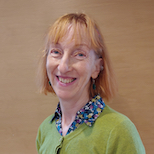 Helen Seignior
Senior Lecturer in Midwifery
Health and Social Care / Adult Nursing and Midwifery
Helen Seignior is a Senior Lecturer in Midwifery at London South Bank University. She has twenty-eight years of experience as a midwife, within both education and all areas of midwifery clinical practice. She still practises clinically once a week at her link trust, University College Hospital. Her specialist area of clinical practice is the neonate and she runs a weekly newborn infant physical examination clinic.
Helen teaches across the pre-registration curriculum and draws on her long years of clinical practice to inform teaching and utilise stories to illustrate theoretical points. She has a particular interest in anatomy and physiology as applied to mother and baby, continuity of carer and the role of the midwife as an educator and companion, working in partnership with the pregnant woman/new mother.
Helen is a fully qualified antenatal teacher for the NCT, and she facilitates parenting classes in her local area.
Helen is an active member of the Royal College of Midwives (RCM) and is the RCM learning representative at University College Hospital. She is currently engaged in organising a national study day on perinatal mental health.