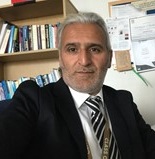 Haydar Aygun
Course Director for MSc Environmental and Architectural Acoustics; Senior Lecturer in Acoustics
Built Environment and Architecture
Dr Aygün is a senior lecturer in acoustics and the Course Director for MSc Environmental and Architectural Acoustics in the Division of Civil and Building Services Engineering at London South Bank University.
Dr Aygün is an expert in acoustic materials, environmental noise (noise impact assessment), building acoustics measurements (sound insulation), noise and vibration control, duct acoustics, theory of plates, ventilation and air conditioning.
Dr Aygün Joined London South Bank University from Southampton Solent University, where he was involved with development of postgraduate and undergraduate acoustic courses. He was the Course Leader for MSc Applied Acoustics course, and admission tutor for acoustics and audio engineering courses.
Dr Aygün worked as a researcher in acoustics at the University of Hull before moving to Southampton Solent University. He has successfully completed several funded research projects (sound absorbing materials, plate/membrane vibration, duct acoustics, characterisation of long bones, testing of stethoscopes) both there and at Katholieke Universiteit Leuven.
Dr Aygun obtained his PhD degree in acoustics and vibration at the University of Hull in 2006. His PhD project was funded by EPSRC. He obtained a BSc in Mechanical Engineering before studying MSc in advanced materials, process and manufacturing course at the University of Hull, UK.
Dr Aygün has supervised several PhD students and research assistants.
Dr Aygün has teaching experience and knowledge of Acoustics, and Building Services Engineering modules at undergraduate and postgraduate levels. Dr Aygun teaches on the following undergraduate and postgraduate modules:
Subjective and Environmental Acoustics modules,
Measurement and Control of Sound,
Introduction to Building Services Engineering,
Energy Management and Control modules,
Ventilation and Air Conditioning module
General Principles of Acoustics,
Noise and Vibration Control Engineering modules.
Dr Aygun also teaches on the Institute of Acoustics short course 'Certificate of Competence Environmental Noise Measurement'.
Dr Aygün's research interests include:
Materials
Developing and characterising novel materials (sound absorbing materials, noise barriers, composite panels) to solve noise and vibration problems caused by different applications.
Duct Acoustics
Dr Aygun has investigated aerodynamic and acoustic properties of sound propagation through circular and rectangular ducts, testing a range of sound absorbing materials/plates mounted in the duct, calibrating duct systems, determining air flow chart for the duct systems.
Design and development of devices
Dr Aygün've developed and tested several acoustic devices to investigate the acoustical properties of materials.
CFD (Computational Fluid Dynamics) & FEM (Finite Element Analysis)
Simulated acoustic waves in an impedance tube used in combustion engines
Used FEM to determine structural properties of materials
Biomedical Acoustics
Investigation of acoustical properties of the bone using a novel vibro-acoustic model; developed a vibro-acoustic model to determine structural parameters of the rigid porous materials (bone); Investigation of bone parameters that are effecting sound propagation through it using ultrasound and Biot theory;
Dr Aygün has investigated the reliability of the stethoscopes to detect tracheal sounds for determining lung related problems, and is working on novel methods to detect lung/mouth/tracheal sounds.
Currently, Dr Aygun is co-supervising three PhD projects ranging from acoustic mate-materials, sound propagation through plastic duct systems, and detecting osteoporosis using vibro-acoustic methods.
Dr Aygün is currently a member of the following professional bodies:
Fellow Member of Higher Education Academy
Member of the Institute of Acoustics, UK
Member of Acoustical Society of America
Member of Turkish Acoustical Society
Dr Aygun formed a Biomedical Acoustic Special Interest Group (BA SIG) as part UK Acoustics Network to establish links between biomedical researchers and the rest of UK acoustics community, and more widely with the international biomedical acoustics community. He is deputy leader of Biomedical Acoustics SIG.
He has undertaken consultancy work including impact noise assessment, road traffic noise, building sound insulation, determination of sound pressure levels emitted by control panels under vibration, measuring the absorption and transmission loss of porous materials, monitoring noise at festival and noise mapping of events.
Dr Aygün has been on the scientific committee of ICSV24 London 2017, and ICSV25 Japan 2018, and he was involved with organising two structured acoustic sessions. He has chaired some conference session at acoustics conferences. Dr Aygün is reviewer for Journal of Applied Acoustics, and Journal of the Acoustical Society of America.