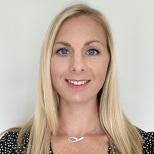 Hannah Smart
Lecturer in Forensic Science
Applied Sciences / Human Sciences
Hannah Smart joined LSBU as a Lecturer in Forensic Science within the School of Applied Sciences in 2020, following a career as a forensic practitioner that spanned over 16 years. She graduated from Kings College London with a BSc in Medical Biochemistry in 2002, and an MSc in Forensic Science the following year. In 2003 she started her training at the Forensic Explosives Laboratory (FEL), part of the Defence Science and Technology Laboratory (Dstl).
In her role as a Senior Forensic Case Officer, Hannah provided scientific support to UK mainland Police Forces in the investigation of cases involving the criminal misuse of explosives. Her work included examination of explosives and precursor chemicals, improvised explosive devices, post-explosion debris and other related items for explosives traces; as well as chemical analysis using a wide range of techniques. She has experience in crime scene attendance and as an expert witness, producing expert reports and witness statements, and giving evidence in court.
Hannah teaches on the following Forensic Science course modules.
Introduction to Forensic Science (Year 1): provides a lecture on her specialist area, Forensic Explosives
Marks and Traces (Year 2): module leader
Measurement and Instrumentation in Forensic Analysis (Year 2): module leader
Core and Materials Science (Year 2): module leader
Research Project (Year 3): assists with student final year projects
Member of the Chartered Society of Forensic Sciences (MCSFS)
Member of the Royal Society of Chemistry (MRSC)
Chartered Chemist (CChem)
Chartered Scientist (CSci)