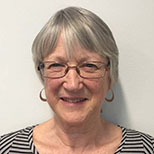 Gillian Symons
Sessional Lecturer, Education for Sustainability
Law and Social Sciences / Social Sciences
Gillian Symons has been a tutor on the LSBU MSc Education for Sustainability since 2007, and has worked in the field of Education for Sustainability for over 30 years. Her main expertise is in formal education and she also has experience in community education.
She has worked as a teacher and NGO education officer, and latterly has combined freelance education consulting with part-time roles in Higher Education and NGOs. She has trained teachers, worked with school students of all ages, and taught courses on sustainability and Education for Sustainability to undergraduates and postgraduates. She is an experienced online moderator and researcher. She has published extensively, including teaching packs, training materials and web resources, and edited the Development Education Journal for five years.
Gillian was a WWF-UK Associate for 20 years, helping to develop their EfS inservice training programme for teachers, both face-to-face and online as well as writing numerous WWF resources. Other employers and clients have included London University Institute of Education, London Metropolitan University, Central University of Iowa Abroad, Oxfam, Commission for Architecture and the Built Environment, Link Ethiopia, and Qualifications and Curriculum Authority.
International experience has included work with teachers in Thailand and Pakistan with WWF, conflict resolution workshops in Russia with International Alert, theatre-in-education in India, Grenada (WI) and Malta, Education for Sustainability residential workshops in Kenya and Uganda with LSBU, and a six month curriculum and resources development project with South African teachers at London University.
Gillian's teaching includes:
LSBU, MSc Education for Sustainability distance learning, 2007-present
Central University of Iowa Abroad, BA module Sustainability in the City, 2015
WWF, Reaching Out Inservice training programme, 1992-2006
University of North London, BEd Primary Humanities, 1997-99
Gillian conducts freelance education consulting. Clients have included WWF-UK, Think Global, Deutsche Bank, Sustainability and Environmental Education (SEED), Oxfam, Waste Watch, Qualifications and Curriculum Authority (QCA), Commission for Architecture and the Built Environment (CABE), and Pearson Education Ltd.