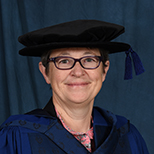 Gillian Phillips
Honorary Doctor of Law
Gillian Phillips is an eminent and globally recognised media law specialist. She has advised on some of the most culturally significant events of recent years. A part-time Employment Tribunal judge, she is also instrumental in the education of countless law students as co-author of the College of Law's Employment Law Handbook.

Gillian studied History and Law at Selwyn College Cambridge. She began her career at Clifford Chance, but soon swapped private practice and corporate life for the media. She spent nine years as an in-house lawyer at the BBC, the moved to News Group Newspapers. This was followed by a stint at the College of Law, where she lectured in Civil and Criminal Litigation and Employment.
From here she moved to Times Newspapers Limited and then in 2009 to the Guardian, where she is now Director of Editorial Legal Services. Over the past five years she has dealt with one high profile – and legally problematic – story after another. In July 2009, Guardian writer Nick Davies wrote a story about widespread phone hacking at the News of the World. The resulting scandal led to the paper's closure and the trial of several senior staff members including editor Rebekah Brooks.
Later that same year Gillian was involved in the Trafigura case, where a super-injunction preventing the reporting of a toxic dumping incident in West Africa caused controversy. Then came WikiLeaks, Snowden and of course the Leveson Inquiry, which she attended on behalf of the Guardian. At the start of this year, the Guardian was one of 50 media outlets to reveal how HSBC's Swiss arm had helped clients to conceal assets and avoid paying taxes.
In the wake of Leveson, a Royal Charter has been granted, creating a watchdog to oversee a new press regulator. Media organisations can opt to sign up to an approved regulator or to stay outside the scheme. While it is safe to say that Gillian is not a fan of the charter itself, she has spoken of welcoming the debate on the freedom of the press as a sign of a health democracy.