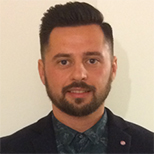 Gilberto Buzzi
Senior Lecturer
Health and Social Care / Adult Nursing and Midwifery
Gilberto is a Senior Lecturer in Adult Nursing, and takes pride in being in continuous professional development. Prior to joining LSBU, Gilberto was a Senior Nurse and Clinical Practice Educator at the Royal Free Hospital NHS Foundation Trust.
Gilberto has many years of experience in the Health and Social Care field and is specialised in Adult Intensive Care. He graduated from Oxford Brookes University in 2009 and has since been employed by a variety of prestigious teaching hospitals, working closely with ward managers and all members of the multi-disciplinary team in delivering, monitoring, and maintaining excellent clinical standards of nursing practice.
Gilberto is a Nurse Teacher, he has a Masters in Practice Education and is a Fellow Member of the Higher Education Academy.
Since joining LSBU in February 2014, Gilberto has worked both in the Institute of Vocational Learning, producing, delivering and managing educational programmes for Health Care Support Workers as well as Continuous Professional Development programmes for Adult Nurses. He has also taught and managed as a course director the BSc (Hons) Health and Social Care: Administration and Management programme before joining the Adult Nursing Department, where he currently teaches on a variety of modules. Gilberto is also a link lecturer for student nurses at St. Mungo's, a large homeless charity in London. The placement has won the national Nursing Times Award for Partnership of the Year in 2018.
Gilberto's research interests are in Massive Open Online Courses (MOOCs) and the future of nursing education and practice.
Nursing and Midwifery Council (NMC)
Royal College of Nursing
Fellow of the Higher Education Academy