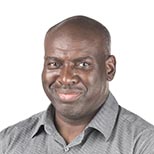 George Ubakanma
Head of Department
Engineering / Computer Science and Informatics
George Ubakanma joined London South Bank University (LSBU: then South Bank Polytechnic) in 1992 as a Lecturer in Operating Systems and Networking. He is currently a Senior Lecturer, specialising in Database Management; Business Intelligence Architecture; Systems Analysis and Design.
Current departmental duties also include the role of Course Director for several of the Postgraduate (MSc) courses in the Department of Informatics. As well as the course management and student facing responsibilities that the Course Director role brings, George also maintains an active cross-Faculty role as a Departmental and Faculty Academic Integrity Officer.
George is currently Co-Chair for LSBU's Academic Integrity Co-ordinators(AIC), this role requires regular cross-Faculty/University contact, together with the research and dissemination of best practice with AIC's from all faculties as well as the University Registrar's Team.
George has developed and co-authored various MSc courses for the Department of Informatics (previously: School of Computing & Mathematics). He has been course director for several MSc courses, as well as managing the BCS Examinations at LSBU. His course director's role has also required undertaking a commitment to conduct recruitment & marketing responsibilities overseas, particularly in India & South East Asia, as well as in Africa, particularly in Nigeria & Ghana.
George is currently actively involved in the restructuring of the Informatics department's postgraduate and undergraduate course provision. He has also undertaken the role of internal examiner/reviewer for the validation of other LSBU courses. He is also an external examiner at other UK universities and colleges.
George has taught a very wide range of subjects in the general area of computing at all levels from HNC to MSc, and he is actively involved in supervising PhD students. George currently leads taught modules at both undergraduate and postgraduate levels in the areas of Systems Analysis & Design, Business Intelligence and Database Management: including Web & Mobile Database Technologies.
George's current published research/conference papers are in the areas of Project Management and Emotional Intelligence, also the development of Vehicular Networking Protocols. George also has current supervisory duties at PhD, postgraduate and undergraduate levels.
He was previously a member of the organising committee for several of the Object Orient Information Systems (OOIS) conferences when held in the UK & overseas.
External Consultancy (Academic)
External Examiner BSc Computing Portfolio: University of Wales Trinity St David (2012-present)
External Examiner HNC/D and FdSc Computing Portfolio: University of Wales Trinity St David (2013-present)
External Examiner FdSc Computing: Pembrokeshire College; Gower College (2013-present)
External Consultancy (Commercial)
KTP academic supervisor: Taylor & Francis Ltd (2010-2012)
Technology Strategy Board sponsored research programme: to project manage and assist in the development of the Partridge Slang Online dictionary enhancing the online capabilities of Taylor and Francis IT portfolio.
KTP academic supervisor: Earthscan Ltd (2009-2010)
Technology Strategy Board sponsored research programme: The extension of the online Manual for European Environmental Policy developing an new online learning resource: EarthLibrary.
Database Consultant/Analyst: Greater London Authority (2006 – 2008)
Implementation of a prototype web database application, GIS mapping Energy Supply data for Local Authorities in the London Area. This project was undertaken by LSBU's Informatics Department in conjunction with the GLA, Carbon Descent, various other commercial partners and a cross faculty partnership with colleagues from LSBU's Engineering Faculty.