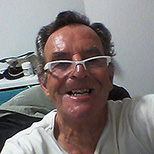 George Bell
Visiting Lecturer
Business / Management, Marketing and People
George R. Bell (BSc Econ., BA Open Hons., MSc) is a Visiting Lecturer with LSBU and five other universities.
After a period of phased retirement in 2011, George Bell left his role in LSBU as Director for Postgraduate Management programmes at LSBU Business School Computing and Information Management (BCIM). During his time at LSBU, George was also Course Director of the MBA (both the full time MBA in International Management and the evening mode MBA), MA International Management (MAIM) and BABS Year 3 tutor. His academic grade was Principle Lecturer.

George Bell's expertise as a lecturer developed from his earlier roots in industrial and employee relations to more generalist HR resourcing, organisational behaviour areas and specialist strategic management courses. He has previous research experience with Trade Unions and the Fair Employment Commission Northern Ireland, with specialist knowledge relating to religious and political discrimination areas in Northern Ireland. He is a member of the British Universities Industrial Relations Association (BUIRA) and has reviewed articles on areas of discrimination and equal opportunities for the Industrial Relations Journal.

Before becoming a full-time lecturer, George was a Fair Employment Investigations and Complaints Officer. He has been a full-time Trade Union Official, has had experiences in quality control management with Rolls Royce Aero Engine Division, and has worked in the Weights and Measures Department of the NI Ministry of Commence.
George has over 25 years' experience of facilitating and mentoring a range of experienced and inexperienced aspirant managers, developing their potential not only as students but as leaders and effective practising managers. This has involved CPD and reflective practice through learning sets and problem-based learning, to promote and encourage the benefits of action learning.
His track record at LSBU is one of constant promotion and hands-on development of the MBA International Management, by providing a supportive and challenging experience for all learners and academic colleagues from a postgraduate academic programme. He held an internal research fellowship at LSBU conducting research into international postgraduate learners and tutors' expectations from their international learning and teaching experiences. This helped to develop practice and a more connected international postgraduate teaching and learning strategy.
As well as LSBU, George has taught in various Business Schools since 1975: the Ulster University, the Belfast Institute of Higher Education, the University of Greenwich, the Open University, Essex University, Penn State University and Henley Business School. He is currently a fellow of the Higher Education Academy.
George's current research interest is human resource management responses to generational diversity at work.
He also pursues other research interests in management of social media inside organisations, "green" human resources management and organisational use of crowd sourcing.
Member of the Chartered Management Institute, 1999
Member of the Institute of Business Consulting, 2006
Fellow of the Higher Education Academy, 2006 (member since 2001)
Fellow of the Royal Society of Arts, 2006
As well as LSBU, George is currently a visiting lecturer for six UK universities:
Warwick WMG
Warwick Business School
University of Leicester
University of Derby
University of Portsmouth
Cardiff Business School
Recently, George delivered human resources management module implementation plans for the University of Bangor Transfer Abroad Programme in HH University/HUAT Henan Province, China.
He is an external examiner with Glyndwr University MBA programs.
Currently, he sits in the NI Pensioners Parliament and on the Strategic Forum of Age NI.