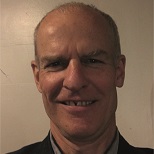 Geoff Goss
Associate Professor
Engineering / Mechanical Engineering and Design
Geoff's PhD thesis was titled Snap Buckling, Writhing and Loop Formation in Twisted Rods. It was supervised by Professor JMT Thompson (Fellow of the Royal Society), of the Centre for Nonlinear Dynamics, at UCL.
Geoff studied via the part-time route, (from City and Guilds, ONC, BEng (LSBU), MSc to PhD), whilst working in welding, and developing a career in part-time lecturing (Engineering Mathematics). He also has a MA in Historical Research (evening classes at Birkbeck).
In 2005, Geoff was appointed full time position as Senior Lecturer in Dynamics at LSBU. He led a successful overhaul of the BEng hons Mechanical Engineering degree, which culminated in its attaining professional Chartered accreditation from IMechE (that had been withdrawn a few years before). Mech Eng has since flourished and expanded nearly 10-fold and is a flagship course in the School of Engineering.
Geoff set up a unique and bespoke Foundation Degree in Clinical Technology. That led to many interesting networking and travels around the UK prosthetics industry, including leading a small research project funded by the BLESMA (ex-servicemen and women charity) on a prosthetic socket.
Geoff is currently Module Coordinator for the following:
Dynamics and Control V
Dynamics and System Modelling VI
Advanced Dynamics and Solid Mechanics VII
Geoff's teaching includes laboratory work and practical mechanical engineering, both of which he is keen to expand upon, and which are based on a platform of rigorous theory. He aims to equip students from diverse academic backgrounds with the building blocks that enable them to develop a thorough knowledge and understanding of dynamics, one that offers opportunities for advanced study.
Geoff's primary area of research revolves around nonlinear elastic rod theory (Cosserat theory).
Over recent years, he has been researching mammal vibrissae (whiskers). This involves application of Cosserat rod theory to the mechanics of whiskers. It has implications in neuroscience and robotics.
Geoff has also researched historical themes, including elastic rods, design of gears, llamas and Incas.
Through his teaching activities at LSBU, Geoff has learnt a lot about the prosthetics industry. He has delved into its history and aspects of the biomechanics.
Chartered Engineer IMechE
Senior Fellow HEA
LGCI – advanced craftsman welder