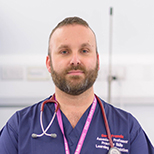 Gary Francis
Associate Professor; School Lead for Practice Skills Learning and Simulation
Health and Social Care / Adult Nursing and Midwifery
Gary Francis is Associate Professor and School Lead for Practice Skills Learning and Simulation. Gary's role in the school is to support and develop practice skills and simulation activity and oversee the running of the clinical skills laboratories at Southwark and Havering Campus. Gary works with the academic staff, technical support and clinical partners to ensure the delivery of practice skills and simulation teaching within the school remains current and innovative. Gary has clinical interests in acute care, clinical skills and nutrition and gastrointestinal nursing.
Gary is a registered adult nurse with the Nursing and Midwifery Council and has a BA (Hons) in Adult Nursing.
Gary also holds a MA in Practice Education and is registered as a nurse teacher with the Nursing and Midwifery Council. Gary is a Senior Fellow of the Higher Education Academy and is currently studying for the Professional Doctorate in Nursing.
Prior to joining to LSBU in 2011 as a Senior Lecturer, he held the joint post of Practice Educator (Pre-Registration Nursing) between LSBU and Guy's and St Thomas' NHS Foundation Trust. Before that, Gary worked predominately in Intensive Care at Guy's and St Thomas' NHS Foundation Trust in a variety of clinical and educational positions.
His other interests include the nursing debate around fitness to practice and the transition from being a student to a qualified health care professional.
Teaching expertise:
Practice skills learning and low to hi fidelity simulation activity
Clinical Skills Training
Risk management
Human factors training
Communication in health care
Preparation for clinical practice
Acute assessment
Intestinal failure and nutrition
Advanced assessment skills
Preceptorship
MA/MSc Dissertation Supervision
Peer Assisted Learning
Barbara's Story, 2014
A project to explore the effect on a local NHS trust's staff being shown a series of DVDs based on "Barbara", who is a patient suffering from Dementia, and her different interactions with health care services.
Preceptorship Project, 2015-current
A project to explore the effectiveness of a local NHS Trust's perceptorship (newly qualified nurses) programme and to determine how it may be enhanced and strengthened.
Nursing & Midwifery Council (NMC) – Registered Adult Nurse
Nursing & Midwifery Council (NMC) – Registered Nurse Teacher
Royal College of Nursing (RCN) – Member
British Association of Critical Care Nurses (BACCN) – Member
Higher Education Academy (HEA) – Senior Fellow
External Examiner – Year 2 BSc (Hons) Adult Nursing Programme University of Lincoln