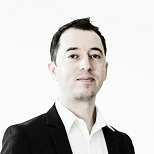 Federico Rossi
Course Director, MSc Digital Architecture and Robotic Construction
Built Environment and Architecture / Architecture
Federico Rossi graduated from the Architectural Association after studying architecture in Florence, Italy.
He gained significant professional experience working in various practices in London including Nigel Coates, SOM and Zaha Hadid Architects, where he worked on international projects ranging from furniture to architecture, exploring innovative design, BIM coordination and manufacturing processes.
He joined London South Bank University (LSBU) as Senior Lecturer in Architecture, teaching undergraduate and postgraduate programmes, and researching digital design and robotic fabrication. In 2013 Federico led a major capital investment project to establish a large-scale robotic fabrication laboratory - DARLAB (Digital Architecture & Robotic Lab) - in collaboration with some industrial partners such as SCMGroup, which will research new manufacturing and material potentials. He is the academic leader for DARLAB.
Undergraduate co-ordination modules include:
Communication 01 - Digital Drafting
Communication 02 - Digital Design
Postgraduate teaching modules:
Design 401
Design 402 : Cities, communities and digital design
Design 403
Design 501
Design 502 : Arts, media and digital design
Design 503
Federico Rossi's research has focused on four areas:
Computational Design and Process Innovation
Advanced Materials and Constructive Systems
Robotic Control and Digital Fabrication
Integrated Digital Design Processes
The research activities concentrate on the development and implementation of digital design processes with advanced fabrication logics for the additive production of highly informed, non-standardised architectonic products.
Parallel to this, Federico is developing strategies for architectural design that are capable of working with these new production possibilities. These are explored within the teaching process in terms of their architectonic, constructive and economic potential. In the last two years he developed an industrial automated robot cell to support research and teaching and permits the direct construction of building parts on an architectonic scale.
Registered Architect, SBA (Dutch Architects Registration Board)
Member, ACADIA (Association for Computer Aided Design in Architecture)
Co-organiser of 'Shape to Fabrication 4 Conference and Workshops': cutting-edge technology, innovative construction and applications in architecture, engineering and design. London, UK: 8 - 12 November 2011
Co-organiser 'Algorithmic Architecture Conference and Workshop's: generative design and digital manufacturing technologies in architecture. Rimini, Italy: 25 - 27 January 2012
Keynote speaker at 'Arup Explores Prototyping': large scale 3D print with D-Shape technologies. London, UK: 9 March 2012