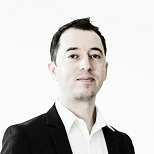 Federico Rossi
Associate Professor – Founding Director of DARLAB
Built Environment and Architecture / Architecture
Federico Rossi is an Associate Professor in Architecture and Digital Manufacturing at London South Bank University with over 15 years of experience in digital manufacturing and robotics in the field of AEC industry.
Graduated from Architectural Association in London, he trained as an architect working for Nigel Coates and Dame Zaha Hadid with focus in digital manufacturing processes in construction. In 2013, he secured a fund of £400k from HEFCE for the creation of the Digital Architecture and Robotics Lab (DARLAB) with the scope to examine the changes for architectural production with robotic manufacturing.
Since 2016, as founding director of DARLAB, Federico developed consultancy projects for Volkswagen, Astana Energy Expo, Ars Electronica, SCM Group, Veolia, Dyson, Quayola and Southwark Council exploring research topics Design for Additive Manufacturing, Circular Manufacturing, Large Scale Reinforced Polymer Structures and Robotic Advanced Manufacturing.
In 2018 received a grant from Knowledge Exchange & Embed Partnership (KEEP+) with Titan Reality Ltd funded by EU Horizon 2020 for the development of a digital design workflow for innovative acoustic surfaces through robotics fabrication processes.
Recently, the project SCRAM - Sustainable Construction through Robotic Additive Manufacturing - was awarded from EPSRC UKMSN+ to develop a digital workflow using robotics additive manufacturing, machine learning and topology optimization for production of large-scale 3D printed protypes in order to demonstrate the potential of recycled based polymers in the AEC industry.
Research outputs in the field of robotic additive manufacturing will include a prestigious collaboration with the European Space Agency, Directorate of Human and Robotic Exploration, for the development of robotic 3D printed planetary habitat using reinforced recycled polymers.
Federico is a Fellow of the Royal Society of Arts and his work has been published, exhibited internationally including Salone del Mobile, Wired, Domus, Royal Academy Summer Show, Italian Trade Agency and the European Cultural Centre in Venice, Italy.
More information about Federico can be found https://federicorossi.io/
Federico centres his teaching activities around digital design and technologies. Currently he is module leader for Technology 01 and 02 in the BA (Hons) Architecture and PhD supervisor for additive manufacturing and robotics research topics.
Federico Rossi's research has focused on four areas:
Computational Design and Process Innovation
Advanced Materials and Constructive Systems
Robotic and Automation with Subtractive and Additive Processes
Integrated Digital Design Processes
The research activities concentrate on the development and implementation of digital design processes with advanced fabrication logics for the additive production of highly informed, non-standardised architectonic products.
Through subtractive and additive robotic manufacturing, Federico developed the possibility of directly fabricate building components designed using robotics and automation to break typical constraints and solves common problems, for instance by implementing digital workflow in manufacturing embedded with the design process itself with integration of new materials.
Federico has been engaging with both academic and industrial affiliations in the field of architecture, design and manufacturing.
Fellow of the Royal Society of Arts, FRSA
Registered Architect, SBA (Dutch Architects Registration Board)
Member, ACADIA (Association for Computer Aided Design in Architecture)
Associate Member of Centre for the Integrated Delivery of the Built Environment (IDoBE)
Member of Robots in Architecture
LSBU Sustainability and Climate Action Events Series - Carbon, Climate, Energy and Resources – Speaker – London, June 2020
NXTBLD 2019 conference, Queen Elizabeth Auditorium London – Keynote speaker – London, June 2019
Architecture of The Future Conference – New advancement in digital construction – Keynote speaker – Kiev, October 2018
XYL Expo 2018 Smart Factory 4.0 – Keynote speaker – Milan, February 2018
Italian Stone Theatre – Ever Growth robotic stone milling – Keynote speaker – Verona, Italy September 2017
Artificial Intelligence, Robotics and Immersive Media Conference, AIRIM – Keynote Speaker – London, November 2017
Canon UK Digital Lecture Series: Digital Architecture and Robotic Lab, recent projects – Keynote Speaker – London, July 2016
Vision London: The future of the built environment – Speaker – London, February 2016
Ligna Expo 2015: Industry 4.0 for digital timber construction – Speaker – Hannover, May 2015
Arup Explores Prototyping: large scale 3D print for D-Shape Technologies – Keynote Speaker – London, March 2012
Algorithmic Architecture Conference and Workshops: generative design and digital manufacturing technologies in architecture – Conference Organizer – Rimini, January 2012
Shape to Fabrication 4 Conference and Workshops': cutting-edge technology, innovative construction and applications in architecture, engineering and design – Conference Organizer with Gregory Epps – London, November 2011