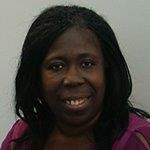 Evelyn Collison
Senior Lecturer in Adult Nursing and Midwifery
Health and Social Care / Adult Nursing and Midwifery
Evelyn is an experienced midwife educator. She had the opportunity to study and teach overseas and these experiences feed into her teaching and interactions with the students creating inclusivity both in the classroom and in clinical practice.
Evelyn was previously a Course Director for the three year and shortened pre-registration Midwifery courses.
She has wide experience in teaching across the undergraduate programme and has been active in developing past and present new curriculum as well as previous CPD modules, some of which she led.
Evelyn mentors and supervises colleagues and clinicians undertaking the postgraduate certificate studies providing support and guidance.
She has been nominated on two occasions in the category of Outstanding Lecturer Award.
Evelyn is the recruitment lead for the pre-registration courses and involved in planning, organising and preparation of assessors for selection of midwifery students.
She contributed to an Abstract for Poster Presentation on recruitment incorporating the 6Cs submitted to RCM conference in 2013
Evelyn was a member of a task group charged with exploring students' attrition and retention. She still has an interest in exploring factors that influence student's choice of university.
Evelyn is a senior Fellow of the Higher Education Academy. Evelyn is a nurse, midwife and educator with the Nursing and Midwifery Council as well as a member of the Royal college of Midwives.