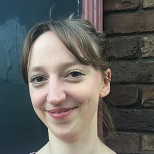 Eugénie Pastor
Lecturer
Arts and Creative Industries / Arts and Performance
Eugénie is an artist, performer, musician and theatre-maker, based in London and originally from France. She is an Associate Artist at Little Bulb Theatre company, which she joined in 2009, co-devising and performing in many of the company's award-winning shows, including: The Future, Orpheus, Operation Greenfield, and most of Little Bulb's cabaret and band incarnations. With Shamira Turner, she created and co-runs She Goat, a Franglais performance duo who like extravagant multi-tasking, mucking around with gender, and playing live music on stage.
Eugénie is also a freelance performer and theatre-maker who collaborates with many other contemporary artists, and she develops her own solo work, including the one-on-one performance Pube. Her work has been shown at Battersea Arts Centre, Soho Theatre, Camden People's Theatre, National Theatre, Salzburg Festival, Brisbane Festival, West Yorkshire Playhouse, Millenium Centre Cardiff, Bristol Old Vic, Shoreditch Town Hall, Southbank Centre, Latitude and Wilderness Festivals, among others.

Eugenie has a PhD in Drama and Theatre Studies from Royal Holloway and taught at LSBU as a visiting lecturer for several years before joining the team as a permanent member of staff.
HEA
Creative Sounding Board
Battersea Arts Centre