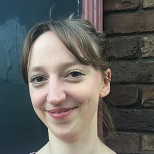 Dr Eugénie Pastor
Lecturer
Arts and Creative Industries / Arts and Performance
Dr Eugénie Pastor is a part-time lecturer in the School of Performance, having joined LSBU as a permanent member of staff in September 2017 after four years teaching on the course as a Visiting Lecturer. She teaches theatre-making modules as well as theory-based modules, and she supervises the research and practical work of third years students. Dr Pastor is also the co-supervisor of two PhD candidates.
Dr Pastor has a PhD from Royal Holloway, University of London, and her research focuses on music in performance, intimacy in performance, performance as embodied learning and knowledge, feminism as a praxis, one-on-one performance and collaborative authorship.
Recent research projects include: a R&D residency at Ryerson University, Toronto on exploring low-fi intimate VR experiences; an article exploring representations of love on stage through the use of voice, based on The Undefinable, a piece she co-authored with her performance company She Goat in 2019 and re-worked as an audio-only work in 2020.
Alongside her work at LSBU, Dr Pastor is a practitioner with a decade-long career as an artist, performer and musician. She is co-artistic director of She Goat and a long-term member of Little Bulb Theatre. She has also developed solo projects. Her performance work has toured the UK and internationally, to critical acclaim, to venues and festivals including: Soho Theatre, Battersea Arts Centre, The Shed at the National Theatre, Millenium Centre Cardiff, Salzburg Festival, Brisbane International Festival, Edinburgh Fringe, Southbank Centre, Folkestone Quarterhouse, Bristol Old Vic, Royal Opera House, among others. Her work has been reviewed and featured in The Times, The Guardian, Time Out, The Wire and the BBC, among others. Through this work, Dr Pastor has developed an in-depth understanding of the practical and artistic demands of the current UK performance scene, as well as many industry contacts and connections.
Fellow of the Higher Education Academy
Creative Partner Sounding Board member - Battersea Arts Centre
Advisory Board Member - AHRC-funded project 'Aural/Oral Dramaturgies: Post-Verbatim, Amplified Storytelling and Gig Theatre in the Digital Age', Royal Central School of Speech and Drama