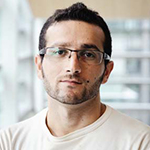 Esmail Mahmoudi Saber
Senior Lecturer
Built Environment and Architecture / Civil and Building Services Engineering
Dr Esmail Saber is a Senior Lecturer in the Civil and Building Services Engineering Division in the School of The Built Environment and Architecture. He specialises in building performance modelling and computational fluid dynamics, with interests in building services design and control including heating, ventilation and air conditioning system as well as passive building design. He has a PhD in building science and architectural technologies from National University of Singapore and has worked as a postdoctoral researcher in the University of Sheffield before joining LSBU in 2017.
Dr Esmail Saber teaches subjects in the building services subject area including engineering mathematics, heating and ventilation systems, design applications, integrated building design and passive building design.
Dr Esmail Mahmoudi Saber's research spans around building design and control improvement, heating, ventilation and air conditioning system.
International Building Performance Simulation Association - England.