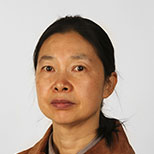 Dr Zhihui Ye
Senior Lecturer; Course Director for MSc Building Services Engineering (Distance Learning)
Built Environment and Architecture / Civil and Building Services Engineering
Zhihui spent six years working with the Complex Built Environment Systems (CBES) Research Group at The Bartlett, UCL prior to joining LSBU in 2012.
With her first degree in Engineering in Heating, Ventilation and Air-conditioning, Zhihui worked in the district heating industry in her early career. She gained extensive experience in district heating schemes from installing, operating, maintaining, planning and designing, especially in the direct use of low temperature geothermal hot water for district heating schemes.
She started her academic career at the Bartlett School of Graduate Studies, University College London, where she worked as a research fellow.
She began her work there by developing a thermal-dual probe to measure the moisture content of building envelopes. The development of the dual-probe and the indication that it can be successfully applied to the measurement of the moisture content of building materials in-situ is significant as it opens up the possibility of using this technique reliably in the field for an application such as monitoring the drying out of a structure post-flood. Due to the significant contribution to the field of moisture transfer analysis, the research outcome won a Carter Bronze Medal by CIBSE.
She went on to monitor environmental conditions such as ambient temperature and relative humidity across London. These data were then used to analyse the heat island phenomenon across the London urban area.
Finally, with the collaboration of the building industry, she measured and monitored the indoor environmental conditions and energy consumption of high-level sustainable, new build homes.
Modules taught:
Building services engineering principles - Level 4
Thermofluids engineering - Level 5
Integrated building design - Level 5
Energy management and controls - Level 6
Thermal energy systems - Level 6
Passive building design - Level 6
Major project - Level 6
Energy resource and use analysis - Level 7
Ventilation and air conditioning - Level 7
Energy and engineering - Level 7
Zhihui's broad research interests are in energy, the indoor environment and the operational performance of buildings. Her other research interests include moisture transfer in buildings and building monitoring.