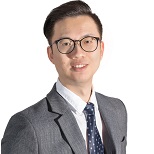 Dr Weiou Wu
Senior Lecturer, Finance
Business / Accounting, Finance and Economics
Weiou Wu is Senior Lecturer in the Accounting, Finance and Economics Division.
Weiou obtained his Masters in Financial Mathematics from University of Warwick, and he also holds PhD degree in Finance from University of St Andrews. Weiou was Postdoc Researcher at University of Limerick between 2013 to 2015. Prior to joining LSBU in 2016, Weiou was Lecturer in Finance at National University of Ireland, Maynooth.
Weiou is Associate Course Director for MSc International Finance, MSc International Accounting and Finance and MSc Applied Accounting. He is also Adjunct Professor at Beijing Institute of Petrochemical Technology and Visiting Professor at Siberian Federal University.
Weiou's main teaching responsibility is on MSc courses in Finance. He is the module leader for International Financial Markets, Financial Risk Management, Corporate Financial Management and Bloomberg for Business Professionals.
Weiou also supervises PhD students in the area of Empirical Finance and Quantitative Finance.
Weiou's research focus on over-arching theme of Empirical Finance, especially time-series modelling and copula modelling. He published several papers on ABS rated journals including the Journal of Risk, Quarterly Review of Economics and Finance, Research in International Business and Finance, and Studies in Nonlinear Dynamics & Econometric.