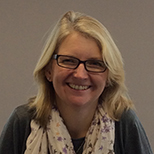 Dr Susie Sykes
Senior Lecturer, Research
Health and Social Care / Primary and Social Care
Susie is a Senior Lecturer in Research in the Division of Primary and Social Care. Her professional background is in Public Health and Health Promotion and she has particular interests in Community Development, Health Policy and Health Literacy.
Susie began her career in the voluntary sector working around issues of young people and drugs. She then moved into the public sector working within different public health departments, with responsibilities for young people, teenage pregnancy and community development. During a secondment to the Applied Research Unit at Farnborough Hospital she developed her interest in Health Promotion Research and Evaluation. She has since worked in partnership with a number of statutory and voluntary sector organisations undertaking research projects, needs assessments and evaluations. She is an experienced trainer and lecturer.
Susie is interested in the development of the public health workforce. She is involved in the delivery of masterclasses and supports public health practitioners in the development of their portfolios for registration. She has worked closely with national public health bodies in exploring the needs of the public health workforce and how they can be met.
Susie completed her PhD in 2015 which was a conceptual analysis of critical health literacy and its relevancy for policy and practice. Susie has an MA in Health and Community Development and a Postgraduate Certificate in Higher Education.
Susie is the Course Director for the Health and Social Care Professional Doctorate Course and teaches research methods to Professional Doctoral students and Masters' students. She also teaches systematic reviews for dissertation students as well as supporting the teaching of her disciplinary specialism of Public Health and Health Promotion across the School of Health and Social Care. She currently supervises Masters, Professional Doctorate and PhD students.
Susie is an experienced qualitative researcher with particular interest in case study research, concept analysis and evaluative research. She leads the Health Promotion Research Group that sits within the Centre for Applied Research in Improvement and Innovation in Health and Social Care (CApRII).
Recent research activity has built upon her PhD through which she developed a new model of concept analysis (Applied Evolutionary Concept Analysis) and applied it to critical health literacy. This included an examination of how critical health literacy can be developed in practice, particularly within the field of community development. Subsequent research has explored strategies for practice in building critical health literacy.
Much of Susie's research work is focused on evaluating public health and health promotion projects. Examples include the evaluation of a community health literacy project, sexual health programmes for BME workers, and the voluntary sector's role in teenage pregnancy prevention work. Most recently Susie has been involved in the evaluation of a multi-disciplinary simulation training course on enhancing patient transfer as well as the evaluation of tools for assessing workforce health in small and micro enterprises.
Susie is a Senior Fellow of the Higher Education Academy and a Fellow of the Royal Society of Public Health. She is also an Assessor for the UKPHR Public Health Practitioner Register.