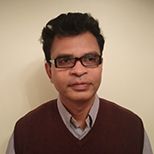 Dr Shyamal Mondal
Lecturer
Engineering / Mechanical Engineering and Design
Dr Shyamal Mondal is a lecturer in Mechanical Engineering within the School of Engineering. He studied a BEng (Hons) in Automated Control System at Tajik Polytechnic Institute (former USSR), followed by an MSc in Real-Time Systems at LSBU, before completing a PhD in Automated Non-Destructive Testing (NDT) Inspection at London South Bank University.
Shyamal has been involved in a number of Engineering and Physical Sciences Research Council (EPSRC)- and European-funded automated pipeline and weld inspection NDT research projects. He worked at the University of Bristol as a Researcher on phased array ultrasonic modelling and achieved the Pressure Vessel Technology journal editor's choice award by the American Society of Mechanical Engineering (ASME). He achieved the Industrial Automated Innovation Award as a co-author, 2007, and a highly commended research paper award at the Climbing and Walking Robots and Support Technologies for Mobile Machines conference, 2010.
Shyamal teaches on the following modules:
Machine Drives and Mechatronics (Module coordinator)
Control Engineering (Module coordinator)
Dynamics and System Modelling
Electro mechanical system
Shyamal's research interests and activities include:
Ultrasonic NDT system, design 2D phased array systems, beam focusing model, process and analyse array signals
Remote NDT inspection system and state space modelling (for both continuous time signal and digital control system)
Use of advanced measurement and defect sizing techniques, TOFD method, improve the detection capabilities for the near surface dead zone area
Shyamal is a member of the American Society of Mechanical Engineering (ASME) and a Fellow of the Higher Education Academy (FHEA).