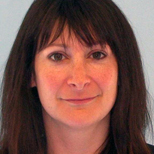 Dr Sharon Rees
Associate Professor
Health and Social Care / Primary and Social Care
Dr Rees has been involved with teaching therapeutics and prescribing for over 10 years, working at several Universities, including Queen's University Belfast and the University of Nottingham. As an experienced medical educator, Dr Rees is involved in the delivery and development of university teaching, research, continuing professional development, as well as National and International conference speaking.
Dr Rees has a particular interest in the blend between in-class and virtual teaching strategies and has won awards from two different Universities for contributions to teaching development schemes. Both have involved using distance and online teaching and learning platforms to enhance the delivery of prescribing programmes.
Dr Rees has a special interest in musculo-skeletal drugs, pain management, drugs used in diabetes and anti-microbials, as well as the process of rational prescribing.
The development of online teaching and learning for clinical pharmacology is a key part of her role.
Dr Rees is active in research and publishes educational and new research papers.
Dr Rees provides a monthly contribution to the Journal of Prescribing Practice; this comprises a drug review 'tweetorial', which is a 7 days of (name of drug)... drug review, derived from her twitter feed, as well as provision of the monthly 'Drug Update'.
Latest articles:
Rees S. Drug Therapies to manage nausea and vomiting. Nurse Prescribing (2018) 16:1, 37-44
Markakis K, Faris AR, Sharaf H, Faris B, Rees S, Bowling FL .Local Antibiotic Delivery Systems: Current and Future Applications for Diabetic Foot Infections. Int J Low Extrem Wounds. 2018 Feb 1:1534734618757532. doi: 0.1177/1534734618757532.
Breen S, Rees S(2018) Barriers to implementing the Sepsis Six guidelines in an acute hospital setting. Br J Nursing. 27(9):473-478]
Rees S (2018). Gabapentin and pregabalin in the pain setting: All you need to know. J Nurse Prescribing. 16:7, 332-340
Fellow Royal College of Physicians and Surgeons (Glas) (PMed)
Scientist Member Royal Pharmaceutical Society
Editorial Board Pharmaceutical Frontiers
Editorial Board Journal of Prescribing Practice
Reviewer for the International Journal Clinical Pharmacy