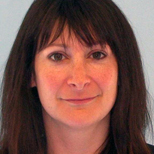 Dr Sharon Rees
Reader in Pharmacotherapeutics
Health and Social Care / Primary and Social Care
Dr Rees teaches therapeutics to a variety of medical disciplines, including nurses, pharmacists, physiotherapists, podiatrists and operating departmental practitioners. Dr Rees also supervises Masters and PhD research projects for professionals in such fields and has a long history of publications, primarily in musculoskeletal interventions, such as surgery, bone density and drugs associated with effects on bone density.
Currently, Sharon's main research interest is medical education, namely investigating the strategies which optimise effective teaching and learning in therapeutics. This involves development of online tutorials for e-learning and ongoing longitudinal studies into effectiveness of teaching and learning approaches used in the therapeutics module on which she teaches. This is in collaboration with the British Medical Journal, who is engaged in advancement of various components of medical education.
The main subject areas taught by Sharon are pharmacokinetics/dynamics, drugs and renal and hepatic impairment, pain management, musculoskeletal drugs, antibiotics, diabetes, and prescribing in the elderly.
Recent publications:
Tagoe M, Rees S, Brown H. Total sesamoidectomy for painful hallux limitus: a medium term outcome study. Foot Ankle International, 30(3) 220-223 (2009)
Whitely B, Rees S. A randomised controlled trial to compare two techniques for partial digital local anaesthetic blocks.Journal Foot and Ankle Surgery,49 143-146 (2010)
Rees, S. Calculation skills for nurses: Local anaesthetic agents. Nurse Prescribing, Vol. 11, Iss. 1, 10 Jan 2013, pp 34
Current projects:
Rees, S and Walsh,K. An evaluation of pharmacotherapeutics teaching and learning strategies for nurses undertaking a non-medical prescribing (NMP) course.
Rees,S. Prescription Drugs and Thin Bones - in preparation for the Nursing Times
Fellow Royal Society of Medicine
Member British Pharmacological Society
Health Professions Council
Member Association of Medical Education in Europe