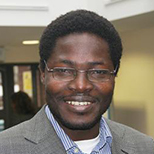 Dr Seun Kolade
Sessional Lecturer in Development and Urbanisation
Law and Social Sciences / Social Sciences
Dr Seun Kolade is a sessional lecturer in Development and Urbanisation at London South Bank University (LSBU). He holds BSc and MSc degrees in Civil Engineering from the University of Ibadan, Nigeria; a postgraduate teaching certificate in Higher Education from University College London; and a PhD in International Development from LSBU.
Dr Kolade has authored journal articles and conference presentations on agricultural innovations, post-disaster preparedness and response, and entrepreneurship in conflict environments. He is also currently a postdoctoral research fellow at the Centre for African Entrepreneurship and Leadership, University of Wolverhampton, where he is conducting an impact study of entrepreneurship education interventions undertaken by the centre between January 2012 and November 2014.
A regular blogger on social media, Dr Kolade has engaged publicly via several media, including TV shows and opinion pieces in print and online media on the subjects of poverty, youth unemployment and inclusive development in Africa. He has consulted with policy makers on resource conflict in rural Nigeria.
Dr Kolade is currently module coordinator for the following modules in the MSc Development and Urbanisation course:
Contemporary Issues in Development Studies (Semester 1)
Economies in Transition (Semester 2)
Urban Project ( Semester 2, Jointly coordinated with Hiten Solanki)
Dr Kolade's research covers a broad range of interests, including diffusion of innovations, cooperatives and social capital, post-disaster preparedness and response, agricultural value chain analysis, and innovations and entrepreneurship in developing countries.
In his PhD research, he examined the impact of social capital, especially in cooperatives, on farmers' uptake of technological innovations in rural southwest Nigeria. He also examined the role of institutional factors, including markets, property rights and access to capital, on the success of adopted innovations.
Following his PhD he has conducted impact studies of entrepreneurship education on venture creation and poverty reduction in conflict ridden Northern Nigeria. He has also investigated the impact of social capital on preparedness, and responses to the Boko Haram insurgency in Northeast Nigeria. He has examined the contributions of religious actors to the provision of universal basic education in Nigeria.
Fellow, Higher Education Academy
Member, Development Studies Association
Member, British Academy of Management
Reviewer, World Development (Journal)
Reviewer, International Journal of Management Practice
Reviewer, African Journal of Science, Innovation and Development