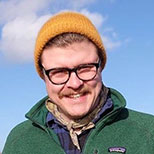 Dr Sam Johnson-Schlee
Senior Lecturer; Co-Course Director: Urban and Environmental Planning
Law and Social Sciences / Urban, Environment and Leisure Studies
Sam Johnson-Schlee (nee Barton) joined in 2017 as a lecturer in human geography. His research to date has focussed on urban studies. In addition to human geography, he teaches on planning, housing, and tourism programmes.
Prior to joining London South Bank University, Sam was a human geography teaching fellow at Southampton University (2017) and has held short term teaching roles variously at Warwick University, IESA, and UCL.
Sam's PhD was completed at UCL under the supervision of Andrew Harris and Adam Drazin. It was funded by an ESRC studentship and was an ethnographic research project into the consequences of rapid neighbourhood change in Brixton South London.
Level 4:
Exploring human geographies, Human Geographies of London, Leisure and consumption, Geographical investigations.
Level 5:
Social and cultural Geography, London: crime and social exclusion.
Level 6:
Planning specialism project, Dissertation module.
Level 7:
Development and regeneration, Comparative housing.
Sam's research falls under three broad themes. Urban inequality and marginalisation, material cultures and consumption in everyday life, urban epistemology.
His PhD discussed experiences of rapid urban change in Brixton under the title: Alienation and Authenticity in Brixton: An ethnography of a changing neighbourhood. The project was the result of sustained ethnographic research based in a restaurant and a soup kitchen. The thesis is interdisciplinary but focuses specifically on urban and cultural geographies. Key themes are social inequality, food consumption, small businesses, marginality and precariousness, popular representations of place.
Sam is also exploring a strand of research into the post-war reconstruction of London, particularly with regard to bomb sites and building sites using Frank Auerbach's paintings of the city as a source for this research.