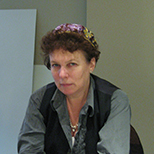 Dr S.H. Cedar
Reader in Biomedical Sciences
Health and Social Care / Adult Nursing and Midwifery
Dr SH Cedar has taught students of nursing, midwifery and allied healthcare professionals for twenty years. Her expertise is in linking biology to health using homeostasis as a model for measuring health status and vital signs, diagnosis and clinical decision making. She has recently created a partnership between LSBU and Guys and St Thomas' NHS Hospital Trust (GSTT) to deliver a brand new course Post Graduate Certificate in Healthcare Chaplaincy. This is the first course of its kind in the UK which links a hospital with a university to a provide training in multifaith spiritual care.
Dr Cedar has a BSc (Hons) in Biochemistry from the University of Sussex and a PhD in Human Leukaemic Stem Cell lines from the University of London. She has post-doctoral experience as an EMBO fellow (European Molecular Biology Organisation) in Neurobiology and an MRC fellow (Medical Research Council) in Developmental Biochemistry. She recently received an MA in Theology and Religious Study at King's College London.
Dr Cedar has authored a text book 'Biology for Health' (Palgrave Macmillan) which offers a fresh approach to the teaching and understanding of biology for health care professionals through linking biology to the activities of daily living. She has also authored numerous papers in both the world of stem cell research and in holistic care. Dr Cedar has recently formed a new research group at LSBU in End of Life Care.
Dr Cedar is a qualified Chaplain in the multifaith chaplaincy team at Guys & St Thomas NHS Hospital Trust.
Dr Cedar specialises in biological sciences for health care professionals.
Modules taught included:
Evidence based practice (Level 4)
Applied Biological and Pharmacological Sciences (Level 6)
Biology and Pharmacology for Health (Level 6)
Applied Biomedical Science for Engineers (Level 7)
Dr Cedar's previous research work centred on stem cells as homeostatic vehicles for regenerative medicine. She has worked internationally at the Weizmann Institute, NIMR/MRC and most recently with Dr Stephen Minger at the Wolfson Centre for Age Related Diseases as Kings College London.
Dr Cedar's research investigates the role of homeostasis as a model for an holistic approach to health care. She has international collaborations exploring the role of hospitality within the hospital context. Dr Cedar is also collaborating in producing a shared agenda for multi-faith and multicultural chaplaincy working to promote a positive meeting ground of common interest, ethic and work practice. In 2017 Dr Cedar established the End of Life Care Research Group at LSBU.
Senior Fellow Higher Education Academy
UK Board of Healthcare Chaplaincy
Institute of Religion in an Age of Science
Healthcare chaplaincy network
Dr Cedar is a Volunteer Chaplain with Guys and St Thomas' NHS Trust and link lecturer on the Post Graduate Certificate in Healthcare Chaplaincy.
She has recently presented papers at a number of international conferences including:
Seventh International Conference on Religion & Spirituality in Society; Imperial College, London
3rd Watson Caring Science European Seminar; Lucca, Italy
She was invited to chair at the British Society of Gerontology Annual Conference; Swansea University, Wales.
She is part of a European Consortium based in Switzerland looking at the wider meanings of care in the hospital environment.