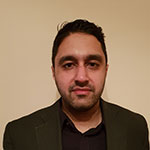 Dr Rashid Aziz
Director of Education and Student Experience
Dr Rashid Aziz is Director of Education and Student Experience, School of Law and Social Sciences. He was previously a Senior Lecturer in Criminology at Canterbury Christ Church University. Rashid holds a PhD in Sociology from City, University of London.
Rashid has worked in higher education for the last 10 years. He has significant teaching experience in criminology and sociology. Rashid's research interests are in British Asian Muslims and marriage, hate crime and bullying.
Rashid has varied research interests in criminology and sociology. His doctoral thesis explored second generation British Asian Muslim males and marriage. Rashid explored the way in which arranged marriage was negotiated and analysed the response to arranged marriages through the sociology of deviance. He found that a system of transnational consanguineous marriages was being reproduced which he termed 'the business of marriage'.
Rashid has also published in the area of bullying and is currently researching the BAME achievement gap in Higher Education. Rashid is also interested in hate crime and has published in this area. Rashid is also formulating a project on martial arts and fear of crime. He has presented his research at national and international conferences.
Rashid is a member of the British Society of Criminology.