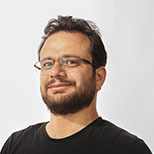 Dr Rabee Shamass
Lecturer in Civil Engineering
Engineering / Civil and Building Services Engineering
Dr Rabee Shamass is a Lecturer in Civil Engineering in the Division of Civil Engineering and Building Services at London South Bank University (LSBU). Before joined LSBU, he was research assistant at Brunel University London from 2016 to 2017 in the area of composite concrete-steel structures and multi-scale numerical analysis of long flexible risers. He received his PhD in Civil Engineering and his MSc in Advanced Engineering Design from Brunel University London in 2017 and 2011, respectively. Moreover, he received his BSc from Damascus University in the subject of Civil Engineering-Structural Engineering in 2007 followed by one-year further study in Structural and Seismic Engineering at the Higher Institute for Earthquake Research and Studies.
Rabee's main research focus lies in the area of structural analysis and sustainable materials in constructions, including testing, theoretical and numerical modelling, and the developments of efficient design guidance. In particular, his expertise lies in the collapse of pipelines, structural behaviour of precast concrete segmental bridge (PCSB), behaviour of composite concrete-steel structures made from either high strength steel or stainless steel beam sections, multi-scale numerical analysis of flexible risers, finite-element modelling using ABAQUS, mechanical and structural behaviour of steel fibres reinforced concrete made from recycled concrete aggregates, structural behaviour of concrete beams/slabs reinforced with basalt FRP bars, and mechanical characteristics of basalt fibres reinforced concrete. His research studies are based on laboratory testing with validated numerical and analytical analysis to suggest design guidance and recommendations for the particular research study.
Find Rabee on Researchgate and Linkedin.
Rabee is engaging in teaching at both undergraduate and postgraduate level. The Modules that Rabee teaches are Structures and Construction Technology, Mathematics, Construction Practice (Revit and AutoCad), and Finite-element and Stress Analysis. Furthermore, he supervises undergraduate and postgraduate projects.
Areas of expertise
Plastic buckling of metal structures, especially pipelines
Precast Concrete Segmental Bridge
Analysis of composite concrete-steel structures made from either high strength steel or stainless steel
Analysis of stainless steel reinforced concrete structures
Analysis of concrete beams/slabs reinforced with basalt FRP bars
Multi-scale numerical analysis of flexible risers
Steel fibres reinforced concrete and basalt fibres reinforced concrete.
Experimental and analytical analysis of recycled aggregates concrete
Areas of research and enterprise interests
Computational solid mechanics
Steel fibre reinforced concrete: numerical and experimental analysis
The application basalt fibres and bars in construction
Design and structural behaviour of structures under extreme loads such as fire and earthquake
Plastic buckling of cylindrical shells
Design and behaviour of steel and composite structures: numerical, analytical and experimental analysis
Structural-fluid interaction of flexible risers
Multi-scale analysis
Applications of nanotechnology in cement and concrete
Structural test, and numerical modelling of structures and structural components
Testing and modelling of shrinkage cracking of concrete at early ages
Research student supervision
Kovacs, R., Experimental and Theoretical Investigation into the Effect of Steel Fibres on the Behaviour of Recycled Aggregates Concrete Beams and Slabs
Dagher, E., The Effect of High Temperature on Concrete Pavements
Rabee is a member of the Institution of Structural Engineering (IStructE)
Collaborations
Mechanical, Aerospace and Civil Engineering Department, Brunel University London, UK
Department of Structures for Engineering and Architecture, University of Naples Federico II, Italy