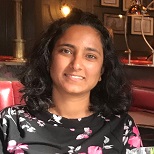 Dr Preethi Premkumar
Senior Lecturer
Applied Sciences / Psychology
Dr Preethi Premkumar is an expert in the association between brain and behaviour due to family stress in people with schizophrenia-like experiences. She has published extensively on this topic and on brain alterations in schizophrenia and pharmacological interventions for obsessive-compulsive disorder. She was a lecturer/senior lecturer at Nottingham Trent University from 2010-2020. Her research has identified the brain signature for processing reward from praise and attending to rejection. She is also an expert in measuring the volumes of brain regions using stereological volumetry. Her earlier research at the Section of Psychological Medicine, Institute of Psychiatry, Psychology and Neuroscience, King's College London examined the brain structural alterations in patients who had been diagnosed with chronic schizophrenia and found enlarged volume of the premotor cortex. She also studies the neural predictors of response to drug and psychological interventions for schizophrenia. Her PhD studies at the Department of Psychology, Institute of Psychiatry, Psychology and Neuroscience, King's College London, identified the neural underpinnings of response to cognitive behavioural therapy for schizophrenia, including a larger volume of the hippocampus and a reduction in the volume of the pituitary gland. She was a research assistant from 2002 to 2005 at the Royal College of Psychiatrists where she contributed to developing the national clinical guidelines for Depression, Self-harm and Obsessive-Compulsive Disorder for the National Institute for Health and Care Excellence.
Recently, Dr Premkumar has gained interest in the mechanisms of psychosocial interventions for mental distress using digital technology. She has collaborated with experts in artificial intelligence to develop a virtual therapy for social anxiety using three-dimensional virtual-reality head-mounted display. As the Associate Editor of the Psychological Therapies subsection of Frontiers in Psychiatry, she promotes publication of manuscripts on topics ranging from mechanisms of psychological interventions to psychotherapy for work stress.
BSc Psychology
Introducing Psychological Approaches
Lifespan Development
Psychological Research Methods 4
Psychology of Mental Health and Distress
Psychology of Sex, Gender and Relationships
MSc Mental Health and Clinical Psychology
Exploring Distress in the Clinic and Community
Dr Premkumar has conducted pioneering research into family relationships and evidenced its undeniable link to schizotypy. She has discovered how sensitivity to criticism and praise in families can link to schizotypy, depression, aggression and substance misuse. Designing novel experiments on family communication and analysing functional magnetic resonance imaging data using Statistical Parametric Mapping, and analysing electroencephalography data using Brain Electrical Source Analysis and LORETA has led her to make ground-breaking discoveries about how the brain attends to criticism, praise and rejection.
Dr Preethi Premkumar regularly presents her research at international conferences. She has an exceptional understanding of the structure of the brain through studying the volume of different parts of the brain in patients with schizophrenia, with ten published journal articles on alterations in brain structural volume in schizophrenia, including her earliest paper on frontal lobe in patients with first-episode psychosis (Premkumar et al., 2006) and her most recent paper on the volume of the pituitary gland in patients who respond to cognitive behavioural therapy (Premkumar et al., 2017). She is currently engaged in a project where she trained undergraduate and postgraduate students to measure the volume of the pineal gland.
As Associate Editor of the Psychological Therapies section of Frontiers in Psychiatry, Dr Premkumar provides valuable feedback on manuscripts on novel psychological therapies and thus, support theoretical advances in psychological therapies. She regularly conducts peer reviews for manuscript submissions to journals in her fields of expertise. She is actively involved in equality and diversity in education, especially with regards to students and staff from Black, Asian and other Minority Ethnicities. At Nottingham Trent University, she was involved in the submission of the Athena Swan application by the NTU Psychology Department which achieved a bronze award.
In the Athena Swan application, Dr Premkumar made recommendations to improve cultural diversity by interviewing members of the psychology department from an ethnic minority group or with special needs about their experiences of equality opportunities. She is committed to success for all in education by designing cross-cultural activities that enhance virtual and real student exchange between NTU and Indian Universities. She engages the public in her research by occasionally writing articles for the Conversation, keeping a blog on family communication, making press releases about her current research and giving interviews to the popular media about current issues.