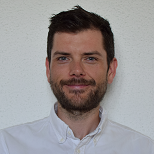 Dr Philip Howes
Lecturer in Mechanical Engineering
Engineering / Mechanical Engineering and Design
Dr Philip D. Howes is a Lecturer in the Division of Mechanical Engineering and Design, where he specialises in nano- and microscale engineering, with applications in the healthcare and energy sectors.
Dr Howes has a highly multidisciplinary academic background. Originally studying Physics as an undergraduate, Dr Howes completed a PhD in nanomaterials chemistry at King's College London, which was followed by postdoctoral work at University College London (in materials science) and Imperial College London (in bioengineering). Prior to joining LSBU in 2021, he was a Senior Scientist at ETH Zürich (in chemical engineering), having moved to Switzerland as the recipient of a Marie Skłodowska Curie Individual Fellowship.
Dr Howes has extensive experience in mentoring doctoral students, and has an excellent track record of helping them achieve high impact publications and successful completion of the PhD degree. He puts particular focus on student development, with the aim of empowering them to conceive solutions to problems of pressing concern and high societal impact. Further, he is highly encouraging and supportive of students undertaking training in support of their future career, in whatever field they decide to pursue.
Dr Howes has published research articles in a range of areas, including nano- and microscale engineering, microfluidics, materials chemistry, biosensing and in vitro diagnostics, and optoelectronic materials. A central theme of his work has always been the discovery and engineering of nanomaterials for application in functional devices.
Dr Howes' research focuses on ways to expedite the translation of nanomaterials from the fundamental study through to advanced applications. The work combines materials chemistry with microfluidic instrumentation development in the search for more efficient, economical and higher performance functional nanomaterials. A particular focus is on photoluminescent and plasmonic nanomaterials, which have great potential to help overcome the grand challenges facing human society, including in energy and healthcare. These nanomaterials harness or transform light energy in various ways, and possess unique attributes as high performance components in advanced applications. Areas of particular impact include their use in effective solar cells, energy-efficient lighting, advanced in vivo imaging and sensitive in vitro diagnostics. Although great progress has been made in these fields already, there is vast potential waiting to be unlocked, which is exactly the aim of Dr Howes' research activities.
See a full list of Dr Howes' publications.